About P.J. Brooke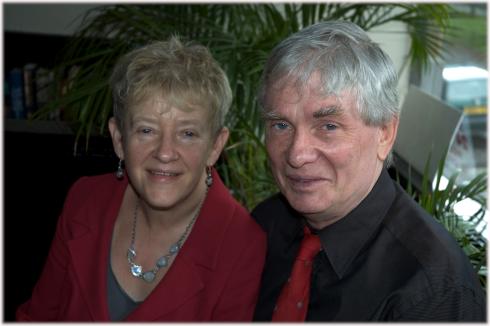 Author photograph: Lin Li. Taken at Biblocafe, Glasgow
P.J. Brooke is the writing name of husband and wife team Philip J. O'Brien and Jane Brooke.
When Phil finished University, he got a Ford Foundation scholarship, which, among other things, enabled him to hitch round Latin America. Returning to Britain, he worked for a time at the Foreign Office, but left after being told that a poncho (however sober in colour) and Che Guevara beret was unsuitable clothing for a government office. Finding academia more congenial, he taught Latin American studies at the University of Glasgow, and is the author of books and articles on Latin America. He was the editor of the Macmillan Latin America Series, and was a commentator for BBC Scotland during the Falklands War.
His research enabled Phil to live and work in Latin America at some of its most dramatic moments: the fall of the socialist Government of Salvador Allende in Chile and the Pinochet dictatorship that followed, the rise of the Maoist guerrilla movement Sendero Luminoso in Peru, and the Chavez Revolution in Venezuela.
Phil has been active in his support for progressive causes. He campaigned actively on behalf of Latin American human rights and was Chair of the Scottish Chile and Argentina Solidarity Campaign. In this, Phil supported Che Guevara's sister in her campaign to secure the release of Che's younger brother, who had been imprisoned by the Argentinian military. He was Chair of Scotland Against the 1991 Gulf War, stood as a parliamentary candidate for the Scottish Green Party, and was the Scottish Green Party member of the Scottish Constitutional Convention, which led to the formation of the Scottish Parliament.
Jane has had a quieter life, mostly in Local Government and Consultancy, but this did take her to New York as an advisor for the first United Nations Conference on Environment and Development. She is the co-author of various articles and edited "Housing and the Environment: The New Agenda," published by the Chartered Institute of Housing in 1992 and was Secretary of the Green Party in Scotland.
Phil and Jane divide their time between Scotland and the oldest part of Granada city, the Albayzin.
Blood Wedding is their first novel featuring the half Scots, half Spanish Sub-Inspector Max Romero.
The sequel to "Blood Wedding"… "A Darker Night" was published on 29 July 2010
Read an interview with Phil and Jane in The Scotsman.
Further Biographical Details
— Jane Brooke and Phil O'Brien
Produced and maintained by Book of Sand for PJ Brooke. J Fairbairn is a participant in the Amazon Europe S.à r.l. Associates Programme, an affiliate advertising programme designed to provide a means for sites to earn advertising fees by advertising and linking to Amazon.co.uk/Javari.co.uk/Amazon.de/Amazon.fr/Javari.fr/Amazon.it